'Robo-debt' kept in the dark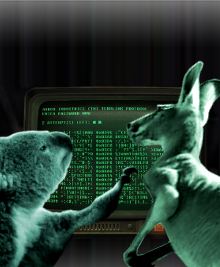 The Department of Human Services (DHS) is refusing to give up details of its 'robo-debt' scheme.
A new computer system has allowed Centrelink to issue nearly 170,000 notices of overpayment of welfare benefits since July last year.
But many have complained that the letters are incorrect, and in reviews so far up to 20 per cent of have been found to not owe any money.
The debt recovery program is now the subject of a Senate inquiry, but the DHS appears to be playing coy.
DHS has been hit with freedom of information (FOI) requests for documents relating to the "Centrelink data matching/debt recovery scheme".
The department says it does not know what the requests are referring to.
"It is not clear which program or scheme you are referring to in your request," a response to an ABC journalist stated.
"The department has used data matching programs in various forms since 1991 and these programs are not all linked to the department's debt recovery scheme."
In response to another request, the department said it did not have documents about the risks of the automated program.
"All reasonable steps have been taken to locate the documents you have requested and I am satisfied that they do not exist," the DHS FOI team wrote.
In a third case, the department refused because it found too many documents.
"I am unable to reasonably identify what documents you want due to the volume of documents," the third response said.
"Your request involves too much work for the department," a letter to Crikey said.
The Office of the Information Commissioner (OAIC) – which provides guidance on the Freedom of Information Act – says "all Australians have the right to request access to government-held information".
"The OAIC works with agencies and departments to help build a culture of proactive information disclosure and community engagement," it said in a statement.
"The powers and functions under the FOI Act are to be performed and exercised, as far as possible, to facilitate and promote public access to information, promptly and at the lowest reasonable cost."