China shifts thousands to fire new 'scope

Print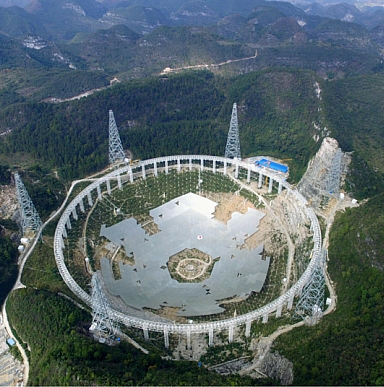 China is about to fire up the world's largest radio telescope.
But operating the giant machine will require the relocation of thousands rural villagers.
The country has made a number of bold scientific investments in recent months, with efforts to build the world's largest hadron collider announced last year.
Now it wants to "search for intelligent life outside of the galaxy", using its new 500-metre Aperture Spherical Radio Telescope (FAST), which sits in the hills of the south-western province of Guizhou.
The 1.2 billion yuan ($257 million) FAST dwarfs the Arecibo Observatory in Puerto Rico; the world's previous largest radio telescope at some 300 metres in diameter.
In order to "create a sound electromagnetic wave environment", provincial officials say they have to relocate 9,110 residents currently living within 5 kilometres of the listening device.
Residents will receive 12,000 yuan ($2,575) for the move, as well as extra support for housing for some.
In the past, China has relocated millions of people when it wants to build something big, but many complain of poor compensation.
The location for FAST was chosen because there are no major towns nearby, but there are fears that its remoteness will prevent close scrutiny of the treatment of displaced and relatively poor residents.
In other China science news, Beijing has announced it is accelerating its multi-billion-dollar space exploration program, and is working towards launching a permanent orbiting station by 2020, and a manned mission to the moon.