Greens question site block claims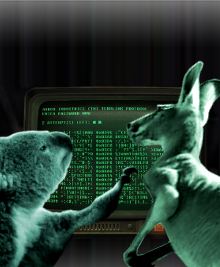 Consumer group Choice says the Federal Government is planning to introduce a filter to block sites that do not charge GST.
Choice says it has found a legislative loophole that would allow the Federal Government to block access to overseas retailers' websites if they fail to comply with new rules that require them to collect goods and services tax (GST) for purchases below $1000.
The Greens want the Government to clarify the claims.
"I honestly hope that this is a hoax, because it is hard to believe that a proposal as off-the-wall as this one could seriously be under consideration. Treasury should shut this down or come clean," said the Greens' Communications Spokesperson and Co-Deputy Leader Senator Scott Ludlam.
"Why does this government always resort to the laziest, most counterproductive response any time the internet imposes on their inflexible view of the way the world should be?" he said.
Ludlam said the Choice report suggests "access to overseas websites will be blocked under the same obscure provision of the Telecommunications Act as that used by ASIC in 2014".
"This humiliating misadventure blocked not just the poorly-defined targets, but hundreds of thousands of sites by accident," the Senator said, pointing out that overseas firms are already under "no obligation to comply with Australian law anyway".
"This hardly constitutes net filter scope-creep; this is more like a scope-avalanche. Estimates hearings in October will certainly be interesting if Treasury have not shot this idea down by then," he said.
Any site that was blocked in this way could be easily bypassed with tools such as VPN, which can be applied with little to no technical knowhow.
"The Turnbull government's VPN subscription stimulus package rolls on into year 2, it seems," Ludlam said.
Treasurer Scott Morrison has reportedly denied the Government is seeking to block foreign e-commerce sites that do not pay GST.
"What we are doing is lowering the threshold in terms of how GST applies. That provides a level playing field for Australian retailers," he said on Sky News.
"The Tax Office has any number of ways of enforcing that arrangement, the one that's referred to is the ability to shut down a website. Now, that's been around for decades.
"It's a power that has been there, we haven't created it, it's just one of the many things that the tax office can use.
"It hasn't been used [by the tax office], so there's nothing to suggest to me that this is something they'll put on the top of their list.
"[ATO Commissioner] Chris Jordan will deal with these matters sensitively.
"What we've done here — another thing we've done over the last 12 months — is ensure that we're implementing this plan, which means retailers here at home are on a level playing field when it comes to the GST with those they're competing with offshore," Morrison said.