New name dropped for NICTA/CSIRO merge

Print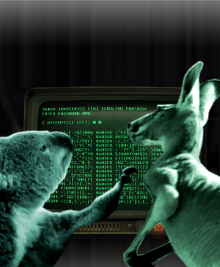 The Australian government says merging the CSIRO's digital productivity arm with National ICT Australia (NICTA) will "supercharge" local technological advancements.
The merged entity has been given a new name - Data61 - referencing the +61 Australian international calling code which NICTA says signifies the global mindset of the new organisation.
"Having a single national organisation will enable Data61 to produce focused research that will deliver strong economic returns and ensure that Australia remains at the forefront of digital innovation," Communications minister MalcolmTurnbull said.
"The new combined entity will continue to train Australia's future digital technology leaders through the enhanced PhD program, with more than 300 technology PhDs enrolled at partner universities."
"CSIRO and NICTA are two world-class research organisations with some of the world's leading scientists," Industry minister Ian Macfarlane said.
"Both have an impressive track record in digital innovation, and have demonstrated their ability to take home-grown technologies to market.
"Together, they will be a force to be reckoned with, creating an internationally recognised digital research powerhouse that will benefit Australian industry as it reaches into new global markets and seizes new opportunities for jobs and growth."
It is the latest news in a tumultuous period for both NICTA and CSIRO, in which they have faced uncertainty and savage cuts on state and federal levels.
CSIRO cut 300 full-time jobs after AU$32.3 in the 2013-14 Budget was allocated solely to redundancies at the organisation.
It was then forced to cut more than 500 jobs after the Government's 2014-15 Budget reduced its funding by AU$111.4 million.
NICTA has had a similarly rough ride after the Coalition cut AU$42 million of its funding in September 2013.
This was followed by 30 research job cuts in NICTA's Victorian office after funding cuts from the state government.
Telstra has seized on opportunities created by the funding cuts at NICTA, announcing a deal in May that should provide millions of dollars in funding over a five-year period for research partnerships between NICTA, the University of Technology Sydney, Deakin University, and the George Institute.
In a step that some speculate could integrate the telco further into government-funded areas, former Telstra CEO David Thodey is taking over as chair of the CSIRO, after announcing his retirement in February.