QLD mulls phone fine boost

Print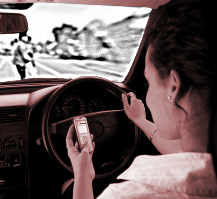 Queensland drivers using their mobile phones may soon face a $1,000 fine.
The Queensland Government is planning a crackdown on distracted drivers that includes a $1,000 on-the-spot penalty — more than double the current $400 fine.
A second offence could see drivers stripped of their licence altogether.
"I think increasing the value of the fine to $1,000 for distracted driving and similar offences will deter this dangerous behaviour," said Queensland Transport Minister Mark Bailey.
The Government said it needs new driving penalties after the deaths of 40 people on Queensland roads over the last two months.
"People are literally killing themselves and killing others because they can't keep their hands off their phone," Mr Bailey said.
All states and territories have fines for people using mobiles while the drive, ranging from $250 in the Northern Territory up to $534 in South Australia.
Mr Bailey said the state is also looking at tech tools to block the use of mobiles while driving.
"Over the past few months, our government has led a conversation with vehicle manufacturers, technology companies, insurers, telecommunications companies, academics, legal professionals and other stakeholders to discuss solutions to distracted driving," he said.
"Time is overdue for us to get this right — all our lives depend on it."