Secret network still up for sale

Print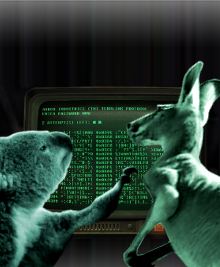 The Federal Government is moving ahead with the sale of the secure communications network that lets departments communicate confidentially.
Many have questioned why the Government would want to privatise its own internal communications network, though its annual running cost of $8 million appears to be the main reason.
The secretive network is called the Intra Government Communications Network (ICON).
It was established in 1991, comprising five kilometres of cables connecting two Department of Foreign Affairs and Trade buildings in Canberra.
ICON now connects 88 different government agencies and departments on "dark fibre" channels that allow secure communications across 400 Canberra buildings.
There are now 1,582 individual cables in the 882-kilometre ICON network, including a total of 160,000 kilometres of fibre.
It has grown into a serious piece of secure telecommunications infrastructure, with 516 points of presence in 2,040 pits around Canberra.
It has been rated by security agencies as 'protected', giving other agencies a private way to connect, instead of using commercially-provided cables.
Finance Minister Mathias Cormann launched a scoping study into the future of ICON (with a sale in mind) in February this year.
At the time, the authorities said no decision on the sale would be made until the study was complete.
A spokesperson for Mr Cormann this week said "the Government has received the scoping study and is considering its recommendations".
DFAT secretary Peter Varghese refused to answer reporters' questions about the sale at an event in Canberra this week.
"It's not an issue I want to go into today," Mr Varghese said.