Postdoctoral Fellow - Development of new space-time analytics to enhance performance & outcomes - [Archived Advertisement]
First listed on: 17 May 2017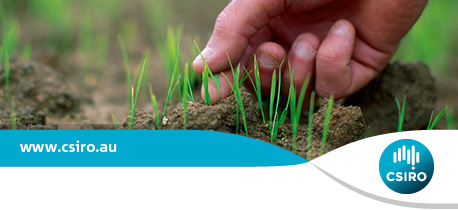 Postdoctoral Fellow - Development of new space-time analytics to enhance performance & outcomes
Do you have an interest in new analytics and algorithms for improved prediction and forecasting of agricultural systems?
Join a cohort of early-career researchers and engineers to combine contributions into mission-focussed R&D.
Join CSIRO Data61, Australia's leading digital research network and focus on a data-driven future!
Future Science Platforms (FSPs) are a major new CSIRO initiative. FSPs are multi-year investments in frontier science that will reinvent and create new industries for Australia.
Digiscape is the FSP that is creating next-generation decision tools to transform the agriculture and land management sector. To achieve this aim, Digiscape is bringing to bear cutting edge climate science; new sources of locally and remotely sensed data; informatics for agro-ecosystems; rigorous analysis of uncertainties; and innovation in both the ICT and social dimensions of systems integration.
As part of Digiscape, you will be integral in the development of an "analytic toolbox" – new analytics and algorithms for improved prediction and forecasting of agricultural systems to assist with decision-making. The development of these new analytics is driven by the need to better quantify predictions and forecasts of agricultural systems in space and time given a range of very large and complex datasets and under a range of modelling paradigms.
As the toolbox will house an overarching set of methodologies for the Digiscape FSP, your role is therefore fundamental to the platform and the agricultural models and applications that sit within it. You will be responsible for development of theory and algorithms that are computationally efficient and fast to cope with large volumes of information and slow model runs and will most likely make use of CSIRO's high performance computing infrastructure.
Your success in this role will be underpinned by your record of science innovation and creativity, plus your ability and willingness to incorporate novel ideas and approaches into scientific investigations.
To be considered you will be highly quantitative with a PhD in mathematics, statistics or machine learning and be highly experienced in developing algorithms that are computationally efficient. You will also be highly proficient in one or more scientific programming languages such as R, Python, C/C++ or equivalent.
To view the full position details and selection criteria for this role please click here: Position Details
Location: Canberra, ACT
Salary: $78K - $88K p.a. plus up to 15.4% superannuation
Tenure: 3 year term
Reference: 29501
How to Apply: Please upload one document containing your CV/resume and cover letter. Please ensure you provide enough information relevant to the selection criteria for this position to enable the assessment panel to determine your suitability.
Who we are: The Commonwealth Scientific and Industrial Research Organisation (CSIRO)
AT CSIRO WE INVENT THE FUTURE
We do this by using science and technology to solve real issues. Our solutions make a difference to industry, people and the planet.
As Australia's national science agency, we've been pushing the edge of what's possible for almost 90 years. Today we have thousands of talented people working across Australia and internationally. Our people work closely with industry and communities to leave a lasting legacy. Collectively, our innovation and excellence places us in the top ten applied research agencies in the world.
WE COLLABORATE TO INNOVATE
Applications will remain open until filled, however we encourage you to submit your application by 28 May 2017 as we will interview suitable candidates from that date onwards.

Location:

ACT - Canberra
Salary:

$78K - $88K p.a. plus up to 15.4% superannuation
Work Type:

Contract/Temp
Category:

Algorithms
Computer Science
Developers/Programmers
Government/Public Sector
Research and Development
Statistics/Data Analytics