First listed on: 12 June 2018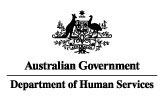 The Chief Information Officer (CIO) Group is a key component and enabler of the Department of Human Services strategic vision. At the forefront of public sector Information and Communication Technology (ICT) transformation, the CIO Group's vision is to excel in the provision of reliable, accessible and personalised services. The department's technology infrastructure, combined with its deep understanding and experience in delivering complex customer-focused services enables the CIO Group to shape the next generation of community services and lead best practice in service delivery.
The Adelaide Delivery Centre operates under a Professional Services model and comprises three branches; Compliance, Social Services and Professional Services. Under the Professional Services Model our workforce is organised into Practices, with the Practices constructed to respond to the demands placed upon the delivery centre. The Practices are:
Project Management (PM);
Analysis;
Design;
Development; and
Quality Assurance.
The Compliance and Social Services branches are accountable for the delivery of ICT projects using resources provided from the relevant Practices within the Professional Services branch.
Data Engineering Experts have an in depth understanding of the DHS ICT landscape and the components that are undergoing or being affected by any project and/or change within their remit. They have demonstrated experience and ability in programming best practice.
Data Engineering Experts engage in the design and the development of high quality solutions in support of business and technical requirements. They solve highly complex problems driving the design and development of high quality solutions in support of business and technical requirements. They undertake a technical leadership role and may be responsible for, and/or contribute to the management of the team.
Data Engineering Experts collaborate with peers, business counterparts and customers playing a key role in liaising and working with stakeholders to foster partnerships, provide strategic advice and optimise the effectiveness of projects in their area of responsibility. They drive the implementation and integration of projects at the operational level.
Data Engineering Experts work autonomously under the broad direction of senior staff with decision-making highly dependent on their own judgement. In performing a leadership role, they identify and drive innovation, manage and lead change, and have an active role in contributing to and implementing the department's strategic direction.
It is highly desirable for the successful applicant to have:
Extensive experience in database platforms, data engineering skills, ETL products and Big data platforms. Data Engineering Experts can specialise in specific aspects of the Information Domiain e.g.

Database Developer (Modelling, Scripting)
ETL (e.g. SAP Data Services)
Hadoop (Spark, Pig, Scala, Python etc.)
Hold industry recognised ICT qualifications, including:
Bachelor's degree; and
Software technical certifications in SAP HANA, DB2, Hadoop, SAP Data Services etc.
The successful applicant will be required to currently hold or be able to obtain and maintain a baseline security clearance.
Applications close 25 June 2018.
Closing Date:

25 Jun 2018
Location:

SA - Adelaide
Salary:

$99,400 to $110,144
Work Type:

Full Time
Category:

Data Science
Database Development, Management & Administration
Engineering - Hardware
Government/Public Sector
Information Management
Statistics/Data Analytics
APS Classification:

Executive Level 1