Sex ed. needs update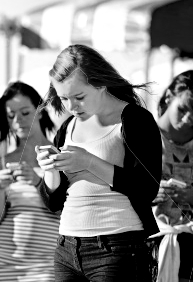 School-based sex education programs may not be keeping up with technology, experts say.
Young people are increasingly facing legal action due to a widespread 'misunderstanding' about what is consensual and legal.
A nation-wide program run by state police in league with Australian Federal Police educates children on sexting, cyber bullying, online child exploitation, online privacy, and what to do when something goes wrong.
"I think the programs that are in place at the moment are really good," says SA Police Detective Chief Inspector Richard Lambert.
"Whether that's being utilised enough, it's difficult to tell but they do have access to that program but when it comes to child protection, there's always more that can be done."
However, the founder of relationship and sexuality education group In Your Skin says sexting is still "incredibly common".
"Some schools are being quite brave and quite pioneering … other schools I think are quite worried about parental backlash," In Your Skin founder Tessa Opie has told the ABC.
"There are many schools out there who aren't discussing it at all."
Dr Opie wants the national curriculum modified to take a harm-reduction approach to sexting and dating online, rather than zero tolerance.
"I do think there's a reluctance on behalf of many teachers to tackle this content and present it. It forces a lot of us to reflect on our own values around sexuality," she said.
"The evidence base is there, we can't dispute it any longer and I guess it's just about moving forward [and] establishing a way where this can be incorporated into the national curriculum and supporting teachers in such a way where they feel confident and competent in delivering that content.
"Once you've covered the legislation component, it's sort of saying; 'Look, if you're going to engage in this activity, there's a couple of harm-reduction messages you can give like, don't show your face, no tattoos, no birthmarks, nothing identifiable'."
"But also, if you're going to share these images, make sure the person with whom you're sharing them holds the same standards of privacy, consent [and] interpersonal trust."
Alannah and Madeline Foundation CEO Lesley Podesta agrees.
"I don't think any school yet has come up with a solution of how to equip young people to exist safely and responsibly in a digital age," she said.
"They're using programs like The Hunting to engender conversations but watching a television program is no substitute for well-grounded, comprehensive curriculum education, support and understanding.
"We've got an education system that hasn't kept pace with the changing nature of young people's lives and we absolutely need to refresh our Australian curriculum standards which recognises the behaviours of young people.
"Abstinence campaigns, 'say no' campaigns, don't really change behaviours, what they do is they drive behaviours underground.
"I know teachers have a lot to carry and I think it's really important we don't say it's the teacher's job without any support, this requires the best resources.
"The answer to this is not just school … not every child goes to school consistently and, sadly, some of the children who are school resisters and children who are moved around from school to school are some of the kids who are equally at risk."